Multiswitch in best quality with latest technology
A multiswitch allows you to receive several satellites simultaneously via a coaxial line. One LNB is required per satellite. It is irrelevant whether the second LNB is installed on the same satellitedish (multi-feed) or on a second dishone. The signals are bundled by the multiswitch and forwarded to the connected receivers.
The Megasat multiswitch series is equipped with the latest technology. All switches are Quad LNB (Quattro-Switch LNB) capable and allow you to integrate the multiswitch into an existing system.
Low attenuation and high decoupling of the receiving levels ensure the highest picture and sound quality even with long cable runs.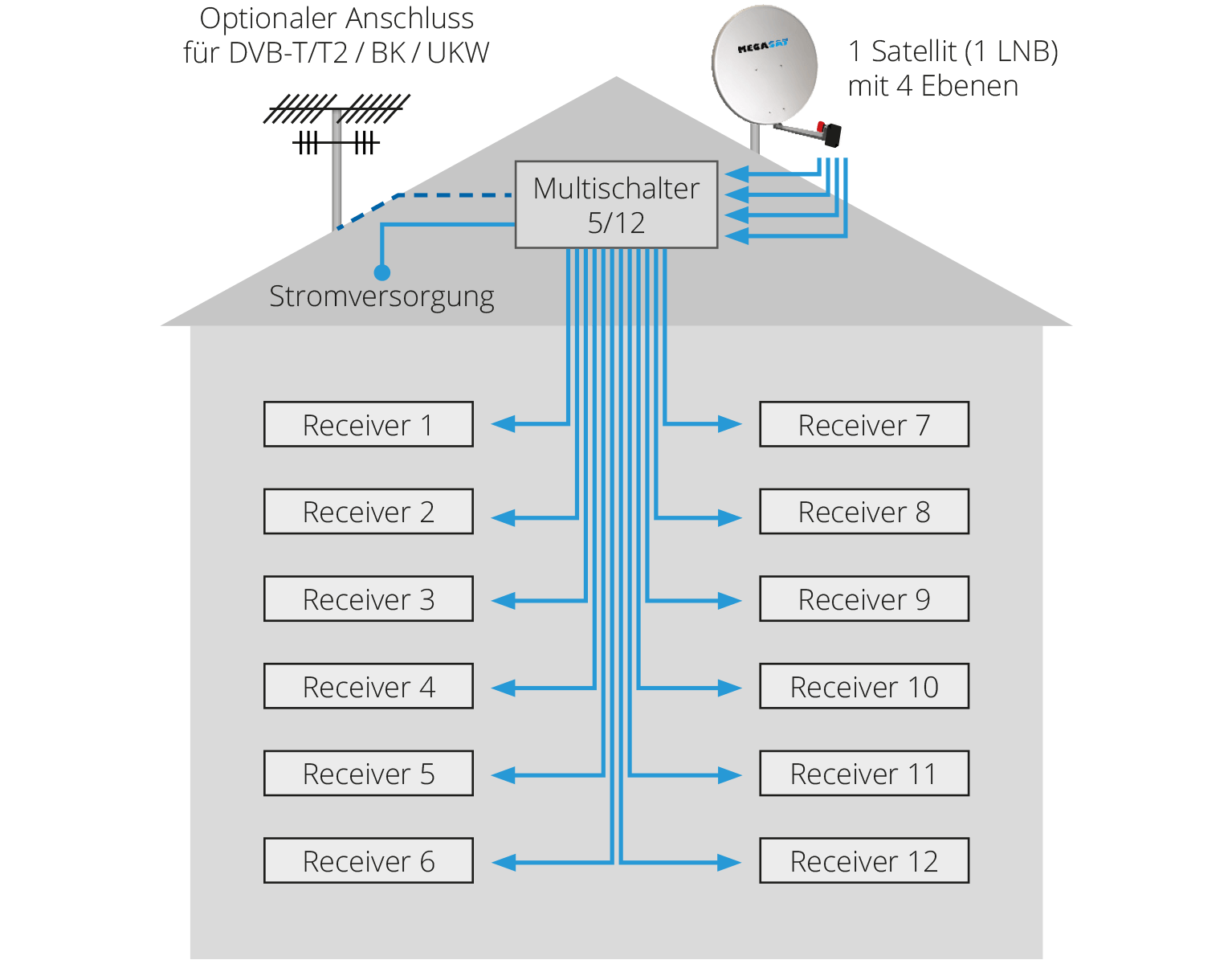 Technical data
Frequency range DVB-S/S2: 950 - 2250 MHz
Frequency range DVB-T/T2: 47 - 862 MHz
DVB-S/S2 attenuation: 2 dB
DVB-T/T2 attenuation: 2 dB
Switch insulation: 28 dB
Decoupling DVB-S/S2: 30 dB
Decoupling DVB-T/T2: 25 dB
Output level DVB-S/S2: 100 dBμV
Output level DVB-T/T2: 85 dBμV
Current output LNB: max. 800 mA
Power supply: AC 90~260 V, DC 18 V, 47~63 Hz
Operating temperature: -20° C ~ +50° C
Inputs
1x DVB-S/S2 (Horizontal High)
1x DVB-S/S2 (Horizontal Low)
1x DVB-S/S2 (Vertical High)
1x DVB-S/S2 (Vertical Low)
1x DVB-T/T2
1x DC In
Outputs
12x DVB-S/S2 (to receiver)
Scope of delivery
Multiswitch 5/12
Power supply unit
User manual
Product
Width: 135 mm
Height: 50mm
length: 230 mm
Weight: 501 g (net)
Box
Width: 163mm
Height: 66mm
length: 353 mm
Weight: 991 g (gross)
Miscellaneous
Art-No.: 0600205
EAN: 4046173105322